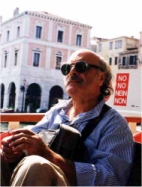 Professor Nello Bocci
was born in Gubbio in 1945, he studied at the statal Art Institute of Gubbio and then at the Accademy of Arts in Perugia and Venezia. He teaches artistic education.
After having had significant experience from the figurative to the abstract in northern Italy (Veneto and Friuli-Venezia Giulia), returning to Gubbio he presented his researches with an anthological exhibition considering the period from 1972 - 1984, during which the reflections on "making culture" and being of the sculpture become interwoven with man's role in the contemporary society.
We find traces and confirmation of this vision in the different phases of plastic elaboration of his works, even in the most recent ones which characterize themselves for their refined artistic solutions: from ceramics to bronzes, from wood to bronzes, to cements, until medal works.
There were
numerous personal and collective exhibitions
in Italy and overseas.
We remember some of them: in 1984; in Follonica, 1985; in Civitavecchia, 1986; in Fabriano, 1988; in Gries (BZ), 1990; in Salon de Provence, 1994; in Firenze, 1996; in S. Giacomo Laives (BZ), 1997.
Important critics studied his works: Vitaliano Angelini, Mariano Apa, Mario Apice, Giorgio Bonomi, Bruno Corà, Giorgio Cortenova, Franco Farina, Giuseppe Maradei, Luciano Marziano, Vincenzo Perna, Carlo Ponti, Duccio Travaglia, Marisa Vescovo.
Apart from articles and reviews in newspapers like "il Messaggero","La Nazione", "Il Corriere dell'Umbria", "L'Adriatico", "Il Tirreno", "Il Messaggero Veneto", Bocci's works have been presented by Italian Television in the program of "Primissima" and some other news services of (RAI3).
You find his works in public and private collections, in open air museums and at the Bargello museum of Florence.
Ultimamente ha realizzato la scultura "piètas" 2000, in bronzo, fusa con la tecnica a cera persa, rappresentante un uomo che, con il volto riverso e coperto da un velo per rappresentare la morte, viene sorretto da un braccio della madre terra che lo riporta nel suo grembo.
Il 8 Giugno 2003, questa scultura è stata collocata all'inizio del Viale della Rimembranza di Gubbio, a ricordo dei tanti giovani eugubini morti durante la Prima Guerra Mondiale.
Il 19 luglio 2003 è stata inaugurata anche un'altra sua opera "I dialoghi" collocata lungo Via Paruccini, poco distante dal Teatro Romano. L'opera è divisa in due parti e guarda contemporaneamente alla Gubbio vecchia e a quella nuova. I due elementi che la compongono vogliono sottolineare il "dialogo tra antico e nuovo", mentre il vuoto fra le due parti vuole rappresentare un vaso immaginario.
Il 16 ottobre 2004 una sua opera a ricordo dell'ex sindaco di Gubbio Giuseppe Bei Clementi è stata posta nel "Parco S. Benedetto" realizzato nel luogo ove fino pochi anni fa c'era il famoso "Campo sportivo di S. Benedetto".

Il 18 giugno 2005, in occasione dell'inaugurazione del
"Largo Caduti di Nassiriya"
, opera realizzata a cura del
"Rotary Club" di
Gubbio
ed intitolata ai giovani soldati italiani caduti in IRAQ a Nassiriya, è stata scoperta una sua opera in bronzo e pietra, a forma di leggio.
Il 6 maggio 2006, in occasione dell'
intitolazione dello stadio comunale
(ex "S.Biagio") a
Pietro Barbetti
, è stato scoperto un busto in bronzo raffigurante l'indimenticato presidente del
Gubbio Calcio
.

He has his study in Gubbio in via Saffi, 20
Tel. 075-9277152
E-mail: scultore@nellobocci.com

Visit his website
Scultore Nello Bocci