THANN



Comune of Thann | The oldest twin links in Europe | The legend of the thumb | The History | Thann: first daughter of Gubbio

The scientific assurance | The truth about the relics | The "Collegiale de St.Thièbaut"

The "Cremation des Trois Sapins" (the lighting of the three fir trees)

This is the legend! But the history confirms it, at least in its substance. The chapel in fact was built, and soon later the first houses, and then Thann grew, and its inhabitants have always celebrated the 30th June 1161 as a foundation date of their city. Two centuries later the construction of the present church started, the "Collegiale de St.Thiébaut", a splendid example of gothic art, where the relic of St. Ubaldo is kept, a relic which we now know with certainty to be a part of the small finger of St. Ubaldo's right hand and not his thumb, as the legend said.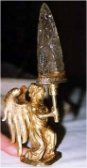 In the years 1975-76 the specialists of the Vatican Museum made investigations on the body of St. Ubaldo and arrived at the conclusion that the print of the right hand revealed that the small finger had a missing joint, and resulted to be of the same size as the relic of Thann.
The misunderstanding might be due to the fact that the relic is kept in a small crystal flask in the shape of a thumb.
If we also consider what the first two biographers and contemporaneous (Teobaldo and Giordano) say, the existence of the servant and the wound on the right hand is confirmed.
Teobaldo, in fact, says: "…"... on St.Ubaldo's hand there was a glove missing...then his servant ran quickly and put it in his hand"; while Giordano says: " ... his flesh was of an exceptional light whiteness, without any absolute sore, except the sore on the right".