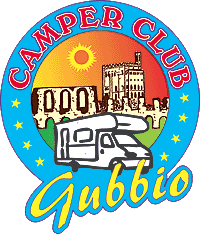 Visit the official web site of the Camper Club Gubbio
www.camperclubgubbio.it
Seat
:
P.zza San Pietro
06024 Gubbio (PG)
Tel. 075/9277508
e-mail:
camperclubgubbio@tiscalinet.it
Storical notes:
An association which has been formed recently (02/01/2001).
Aims:
To improve this form of itinerant tourism in Gubbio.
Providing for a quiet suitable area for the people travelling in campers in the city of Gubbio.
Helping the public administration to encourage this form of tourism, as Gubbio represents one of their most important stops.
The association is prepresented by:
President
: Lucio Ruspi.
Vice President
: Raffaello Di Benedetto.
Secretary
: Antonella Baldinucci.
Councillors
: Bruno Caioli, Giorgio Carlini, Bruno Fioroni, Carlo Minciotti,
Federico Monarchi, Francesco Pastorelli, Italo Piccotti,
Marco Stancati.
Initiatives on the programme:
The Projecting, creation and administration of an area suitable for the parking of campers. According to the convention signed on the 5th October 2001, between the association and the Communal administration, this parking place will be made on the area of more than 3.000 mq situated in front of the bocciodromo.
Furthermore various shop owners have made agreements with this association in order to offer special discounts on their products.