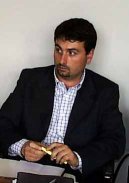 The
Maestro Renzo Menichetti
was born in Gubbio on the 27th January 1969. The passion for music was most probably transmitted to him by his father: Biagio, first Captain of the Ceri in 1997, and musician for hobby.
At a young age he attended the Conservatory "Morlacchi" in Perugia, where he got a diploma in piano in 1990. He took perfectioning courses with Ian Hobson, Fausto Di Cesare and Giorgio Sandor.
In 1993 he started attending the Pontificial Institute of Holy Music in Rome, where he attended liturgy courses, Gregorian and coral singing.
With his didactic artistic activity of director and master of choruses, he prepared, from 1990 up to today, the
"Requiem"
of the
"Great Mass K 427"
, of the
"Kronungsmesse"
and of the
"Vesperae Solemnes de Confessore"
of Mozart; the
"Petite Messe Solennelle"
of Rossini (closing concert of the Gubbio Festival '92, to which he also participated as pianist); the
"Requiem"
of Fauré (closing concert of the Gubbio Festival '98); the
"Requiem"
of Cherubini; the
"Misssa in Tempore Belli"
of Hayds; the
"Deutsche Messe"
of Schubert; of the
"Litanie della Beata Vergine"
of Passarini and other important compositions of Vivaldi, Cimarosa, Mozart and Britten, all executed in concerts or celebrations with favourable criticism of the public and experts.
He was called by the "Teatro della Fama" association as director of the chorus, and collaborated in other plays such as
"Il malato immaginario"
(1988),
"La sensale di matrimoni"
(1991) and
"Aggiungi un Posto a Tavola"
(1988).
Following his predilection to holy music, he composed:
"Missa in Honorem Beati Ubaldi" (1994);
"Tu Es Petrus" (1995);
"Missa In Honorem Principum Apostorum Petri et Pauli" (1995);
"Missa Veni Sancte Spiritus" (1996);
"Messa Gloria a Dio Pace agli Uomini" (1997).
On the occasion of the closing concert of the
"Gubbio Festival '95"
, the "Solisti Aquilani" played his musical piece for the bow orchestra
"Beethoven e Lei"
.
Since 1990 he is a piano teacher at the Comunal School of Music of Gubbio and in 1997 he founded the coral group
"Cantores Beati Ubaldi"
.
In July 1999 he got a diploma for organ and organ compositions at the conservatory "Morlacchi" of Perugia, under the guide of Maestro Vijnand Van de Pol.
In the year 2000 he participated to the 40th International review of Musical chapels in the city of Loreto as Maestro of the chorus "Cantores Beati Ubaldi", with which he immediately after put the operetta "La Vedova Allegra" of F. Lehar, on scene, first at the Comunal Theatre of Gubbio and then in 2001, at the Morlacchi theatre of Perugia and the Amphitheatre of the Comune of Umbertide.
Still in 2001 he directed the inauguration concert of the "Sala del Sole" at the old age home Mosca of Gubbio and the concert asked for by the Comunità Montana in occasion of the Truffle exhibition.
Renzo lives in Gubbio, in via Madonna di Mezzo Piano.
Tel. 075/9271634
Cel. 347/3055335
renzomenichetti@libero.it