The territory: Kmq 528.
Inhabitants: 31.356.
Height: m. 529 above sea level.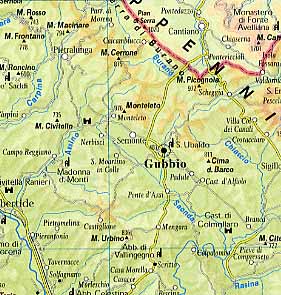 Gubbio is the biggest comune in the
Region of Umbria
and the seventh in Italy.
In the pre-roman period it was an important religious and political centre of the
Umbrians
.
Already in the year 82 a.C. Gubbio became
Roman Municipality
.
In the Medieval period it was the seat of a great
Free Comune
.
From 1384 to 1631 it was an important city of the
Duchy of Urbino
.
It was in the
Papal State
from 1631 to 1860.
With the
unity of Italy
, from 1860 Gubbio was separated from the Region of Marche and united to the Region of Umbria.