Seat
:
Zona Industriale Fontevole
Presso VI.GA.MI. S.n.c.
06024 Gubbio (PG)
Tel. 075/9274362
Storical Notes:
The University of Smiths was already present in Gubbio at the times of great splendour of the free communes. Its existence dates back to the Statute of the free Commune of Gubbio, in 1338.
The statute of the University was approved by the Communal Council on the 20th June 1346. It was reconfirmed in 1598.
On the 16th December 1801 the Pope Pious VII published an Edict with which he ordered the suppression of all the Corporations. Gubbio formed part of the Church State, and all the eugubinian universities were suppressed, but while some managed to obtain rapid ways of surviving, such as the
University of Shoemakers
, others instead doubted their existence, such as the University of Smiths, which invanely asked to be re-established in 1819.
In the Medieval period even noble metal artisans such as goldsmiths belonged to this Art.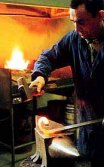 The very important function of the Smiths of one time was that of constructing and providing work equipment to all the other corporations of artisans and to the agricultural world.
But they also created beautiful excellent works of art for the external and internal parts of the houses of that period.
With time they also constructed arms, keys and coins.
After the difficult period in the XLX century, the University of Smiths was re-founded in 1947.
Today this university has a great number of members who do work of great artistic value in hammered iron.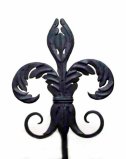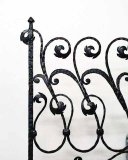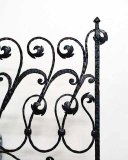 Aim:
Promoting the art of hammered iron and its secrets on a regional and national level.
The University is represented by:
President:
William Vispi.
Vice President:
Ismaele Frondizi.
Councillors:
Fernando Nardelli, Roberto Rogari, Mario Meletti.
Exhibitions:
25th June
: Festa di S.AlÚ (S.Eligio),