Giuseppe Calzuola
was born in Gubbio on the 17th October 1932.
As it was used to doing during the period of the Renaissance, he entered the shop of the craftsman Luigi Faramelli to work at a very young age, where he learned the art of worker in marble and stone cutter.
When he was sure to have learnt the art, he took the place of his master by taking over the store in via Saffi n° 3.
At the age of about 40 he started producing sculptures in stone and in 1984 he had his first exhibition in the "
House of St.Ubaldo
".
There were many other art exhibitions in the following years (1985, 1988). In 1992 he had his personal art exhibition in the Palazzo of Priori of Perugia.
In 1988 he was the First Captain of the Ceri
.
For "Peppe" this was an incredible, total and overwhelming experience. He, an eugubinian, devoted son of
St.Ubaldo
, received the honour of being the First Captain of the
Festa of the Ceri
:
"from the day I have been elected Captain I had to wait two years, as the stradition wants, and they seemed to be hundred billion years..., but the best most intense two years that any person who received such a great privilege could have"
But the 15th of May 1988 arrives! Peppe said:
""That day the eugubinians won't see me, because I'll be in each one's soul. But I am afraid, only to think of it .. help me, all of you".
For whoever knew him well this wasn't usual!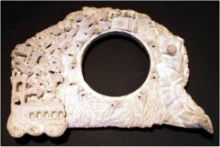 The secret of his art is in his relationship with the stone: "they say that stone is rough, cold and hard. They haven't understood anything: on the contrary, stone is warm, all you have to know is how to remove the crust, the useless superficial part. The rest is all inside ... then the stone becomes alive and full of significance".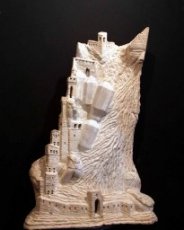 Unfortunately Gubbio lost this exceptional and original person: on the 11th September 1992 he went up to the
Basilica of St.Ubaldo
for the last time, for the "
Festa of the transfer
", the day after he died suddenly.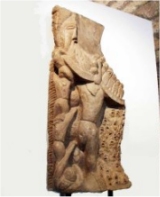 He left a patrimony of various hundreds of works
, 250 of which, still today, are kept by his sister Elsa, who is waiting to organize a permanent exhibition of the artist in Gubbio.
After his death a group of his friends established the "
Committee of Giuseppe Calzuola
" with the purpose of letting everyone know and appreciate the works of this eugubinian artist.
Also see the page of
U
NIVERSITY OF THE B
RICKLAYERS ("MURATORI")