Ottaviano Nelli
, famous eugubinian painter of the XVth century, born in Gubbio in 1357, son of Martino di Nello, also a painter.
His first teachings he received from his father as far as the art of painting is concerned.
At a very young age, in 1400, he was called to Perugia to paint the arms of the Duca Gian Galeazzo Visconti, together with other painters.
In 1403 he was nominated consul, of the quarter of St.Andrea, of the Free Commune of Gubbio, which is not so free any more, in fact, from 1384 it is under the Montefeltro, counts of Urbino.
Ottaviano again became consul for many other times during his lifetime.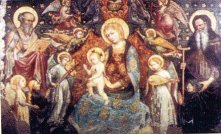 In the same year, 1403, he completed his masterpiece: la Madonna of Belvedere, in the
Church of Santa Maria Nuova
.
The work is a frescoe characterized by graceful colours of paint, with soft, pinks and blues, livened up with gold.
The painting of the altar of Pietralunga was painted in the same period.
In 1417 he was in Urbino, then he went to Assisi, consequently he moved to Foligno, and then again to Urbino, before returning permanently to Gubbio in 1433.
In 1438 he adopted a young boy called Marte. In the years immediately following, he followed the advice of his brother and opened a school of painters in his city.
We are not sure in what year he died exactly, maybe towards 1450. In fact, it was in this year that his widow, Balda, asked for the annullment of the adoption, to avoid that he inherited the patrimony of her husband.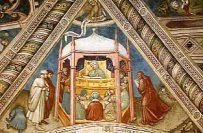 The works of art of Nelli can be found in many cities: Assisi, Cittą di Castello, Fano, Urbino, Gualdo Tadino, Fabriano, Pietralunga, Roma and Gubbio where, in the
Church of St.Agostino
we find a huge frescoe on the triumphal arch called the "Giudizio Universale" (universal justice) (1424 - 1427) and the representations of the "Stories of St. Agostino" (1422); frescoes can be seen even in the
Church of St.Domenico
.
Today, a high school of Gubbio is dedicated to Ottaviano Nelli:
Scuola Media Statale "Ottaviano Nelli"
Via Parruccini
06024 Gubbio (PG)
uffici.scuola.nelli@libero.it